Michigan sex crime attorney Paul J. Tafelski (https://www.michigandefenselaw.com/blog/understanding-michigans-age-consent-law/) and the team at Michigan Defense Law have published a comprehensive article aimed at discussing Michigan's age of consent law. The piece is a timely resource that addresses the complexities surrounding these laws and provides a clear understanding of the potential legal consequences involved.
"Michigan's age of consent laws can be intricate and understanding them is essential to protect one's rights," says Michigan sex crime attorney Paul J. Tafelski. "This article is a step towards shedding light on these laws, their intricacies, and potential legal outcomes."
Michigan sex crime attorney Tafelski and the Michigan Defense Law team have a long-standing commitment to providing not only legal representation, but also valuable information to the public. This new article aims to help individuals navigate the nuances of Michigan's age of consent law, a topic that often creates confusion due to its multifaceted nature.
The article, entitled "Understanding Michigan's Age of Consent Law," discusses issues such as the absence of a "Romeo and Juliet" law in Michigan and the legal ramifications of statutory rape. It further delves into the varying degrees of criminal sexual conduct charges, the influence of the involved parties' ages on these charges, and the restrictions on consensual sexual activities between minors and school employees.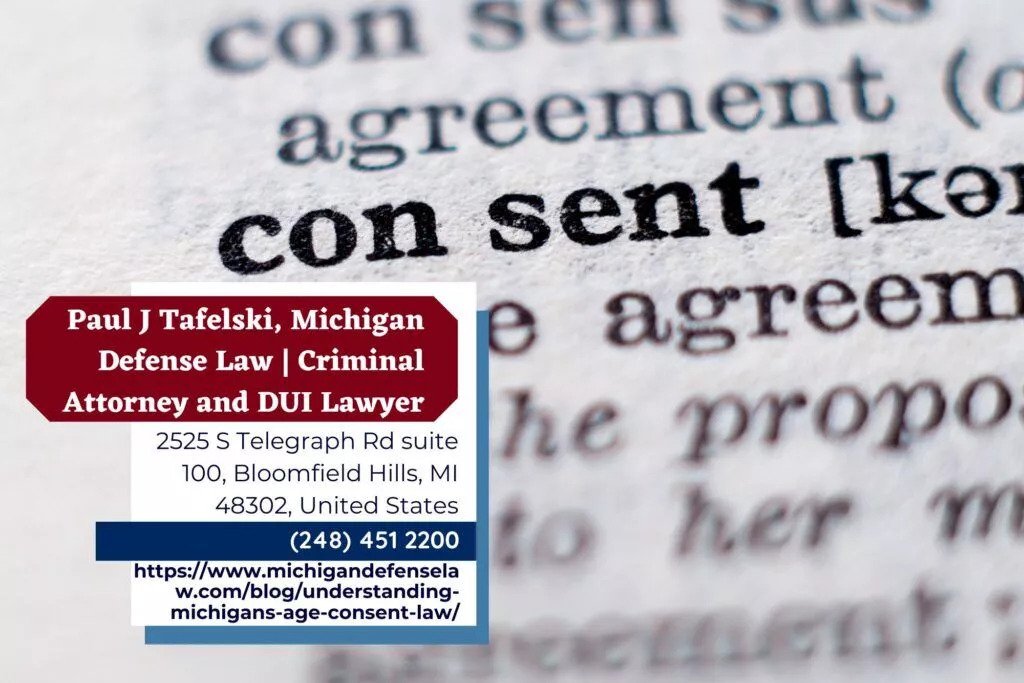 In the article, Tafelski pointedly explains, "In Michigan, a minor cannot legally consent to sexual activities until they are 16 years old. Violating this age of consent can result in severe penalties including imprisonment and hefty fines. This is why understanding these laws is so vitally important."
The article also addresses the lifelong consequences of violating Michigan's age of consent laws, including registration as a sex offender. Tafelski highlights the importance of knowing these laws to avoid such life-altering consequences.
"Those accused of violating age of consent laws need to be aware of the serious implications of these charges," Tafelski warns. "They can have lasting impacts on a person's life, including the requirement to register as a sex offender, which can significantly influence their future."
The article emphasizes the importance of legal representation when facing accusations related to Michigan's age of consent law. It underscores that although ignorance of a partner's age is not a valid defense, there are other legal defense strategies that may be employed.
Understanding Michigan's age of consent laws is critical, not just for those who are facing charges, but for all residents. The newly-released article by Tafelski and the Michigan Defense Law team offers a valuable resource for comprehending these complex laws.
For more details about the age of consent laws and rights in Michigan, visit the Michigan Defense Law website to read the full article.
About Michigan Defense Law:
Michigan Defense Law is a firm dedicated to protecting the rights of individuals facing legal challenges. Led by Michigan sex crime attorney Paul Tafelski, the team is committed to providing the highest level of legal care to their clients. They offer a comprehensive range of services, including legal defense representation and informative resources. Their goal is to help clients understand their legal situation, protect their rights, and ensure the best possible outcome for their case.
Media Contact

Company Name
Paul J. Tafelski, Michigan Defense Law | Criminal Attorney and DUI Lawyer
Contact Name
Paul J. Tafelski
Phone
(248) 451-2200
Address
2525 S Telegraph Rd suite 100
City
Bloomfield Hills
State
Michigan
Postal Code
48302
Country
United States
Website
https://www.michigandefenselaw.com/