St Peters, MO – LSL Finishes LLC, a leading name in the construction industry, has proudly announced its latest offerings that are set to transform garages across St Peters and the surrounding areas. The company's newest additions – Epoxy Garage Floor Coatings, Garage Storage Systems, & Custom Garage Cabinets – are designed to revolutionize how homeowners experience their garages.
This contracting company's revolutionary epoxy garage floors have ushered in a new era for garage floors, bidding farewell to the days of slippery, stained, and unsightly surfaces. Homeowners now have the opportunity to indulge in the brilliance of a bright, pristine, and long-lasting coating that promises enduring beauty. The company proudly stands behind its innovation by providing a lifetime warranty, instilling complete peace of mind in every homeowner's heart.
The epoxy garage floor coating process by LSL Finishes is a meticulous 5-step method that ensures a flawless and long-lasting result. First, the top layer of concrete is expertly ground to expose fresh, smooth concrete, creating the perfect surface for epoxy adhesion. Next, any hairline cracks are filled with a 2-part crack filler to achieve a uniform finish across the entire floor. Then, the E100-PT4-Pigmented Epoxy, chosen to match the client's desired color, is applied, followed by the flake installation that enhances appearance and traction. Finally, the Citadel UL-80 Polyaspartic Gloss Top Coat, a hard protective coating, is applied, adding durability and UV stability for years of enjoyment.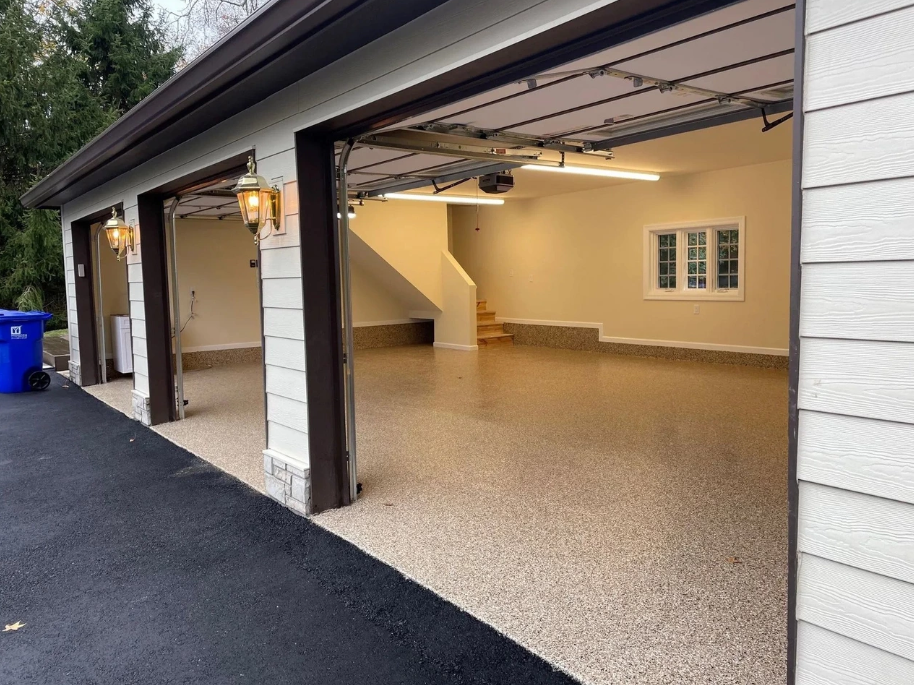 In pursuit of optimal garage space utilization, LSL Finishes has also introduced a myriad of Garage Cabinets & Storage Systems solutions, ensuring every item finds its designated spot. The highly customizable and efficient shelf & bar system offers both convenience and versatility with multi-depth hanging options atop sturdy storage. Meticulously designed custom cabinets, locally manufactured in St. Louis, guarantee a flawless fit for any specific space. To tackle tighter areas, the Slatwall system comes to the rescue, elevating possessions off the floor and onto walls, unlocking hidden storage potential. Embracing the often-overlooked ceiling space, the overhead storage solution proves ideal for seasonal items, holiday decorations, and pool gear, leaving no corner unutilized.
LSL Finishes also specializes in complete home remodeling, including kitchen, bathroom, and basement transformations, as well as expert additions. For interior painting, the company ensures beautiful, lasting transformations, utilizing premium products and techniques at every stage of preparation, painting, and cleanup. Damaged walls are not an issue, as the company excels in repairs, ensuring a seamless surface and matching existing textures. Homeowners can trust the team to deliver outstanding results while maintaining meticulous attention to detail.
At LSL Finishes, customer satisfaction is paramount. The company takes pride in delivering not only exceptional results but also unmatched customer service. Its team works closely with homeowners to understand their unique needs and preferences, tailoring each project to suit individual requirements. With their epoxy garage floor coatings, garage storage systems, and custom garage cabinets, homeowners can finally achieve the garage of their dreams. 
LSL Finishes is located at 1050 S Cloverleaf Dr Suite A, St Peters, MO, 63376, US. To get a quote, contact their team at 314-393-2335. For more information regarding the services offered, visit the company's website.
Media Contact

Company Name
LSL Finishes
Contact Name
Daniel Alt
Phone
314-393-2335
Address
1050 S Cloverleaf Dr Suite A
City
St Peters
State
MO
Postal Code
63376
Country
United States
Website
https://www.lslfinishes.com/