Greenfields, AU – Kanyana Engineering has proudly cemented its place at the forefront of the engineering and fabrication industry with the recently completed Batcopter. The revolutionary piece of equipment was built in part by the company as part of Innovaero's project for Australian YouTube channel 'How Ridiculous'. The piece of equipment combines leading technology, engineering mastery, and top-level aluminum welding experience from the team at Kanyana Engineering.
The Batcopter remains the craziest engineering project the company has ever handled. Kanyana Engineering was recruited by Innovaero to assist with a unique project for their client, Australian YouTube icons, How Ridiculous. Thrilled to be on the project, the company gave the project its all, making sure their mastery of the engineering scene was visible from miles away. After weeks and months of working on the project, leveraging their aluminum welding skills and pushing themselves to the limit, they helped create a successful Batcopter that is true to its name.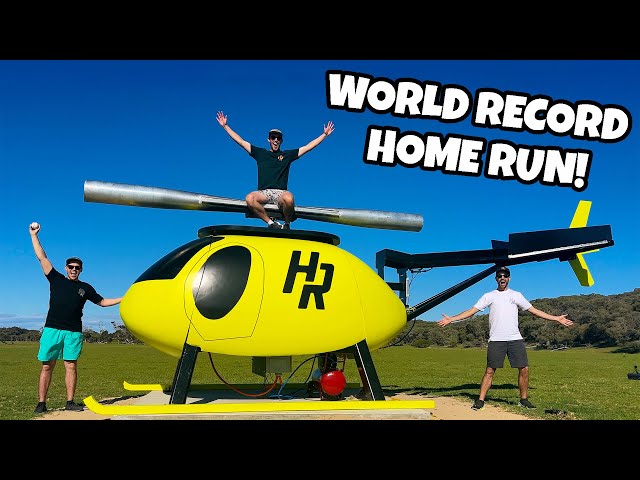 Describing the project in the Our 'Ridiculous' Project: Building The Batcopter publication, Graham Dawe said, "The batcopter is a bizarre and unique invention conceived by the 'How Ridiculous' team. Essentially, it is a bat helicopter – which means a helicopter with a baseball-style bat as its propeller. Crazy, we know! The goal of this project was to see how far this bat-propelled helicopter could hit a baseball. For this to work, the team at Kanyana helped fabricate an aluminum metal bat that would become the 'propeller' for the helicopter and, subsequently, the tool that would hit the baseball out of the park."
The technicians at Kanyana Engineering quickly fell in love with the challenge and worked hard to fabricate the mount to secure the bat to the helicopter. They also had to ensure that their fabrication had all that was needed to withstand extreme propeller speeds and was reinforced in areas expected to hit the ball, according to the specifications submitted by the Innovaero team.
At the end of the Batcopter fabrication and metalwork completion, the Innovaero team took over the mechanics of the equipment, including the design and implementation of the timed air compressor system that would propel the baseball into the path of the bat propeller. The Kanyana Engineering team is proud to have been a part of the innovative and challenging project which tested their experience and engineering prowess. 
Kanyana Engineering remains open to more challenging opportunities as they provide laser cutting, laser engraving, proto-typing & design (CAD), CNC bending & folding, NC guillotine cutting, as well as welding and fabrication services. Get in touch with them via phone at +08 9581 6770 or visit their website. Kanyana Engineering is located at 22 Fitzgerald Rd, Greenfields, WA 6210 AU.
Media Contact

Company Name
Kanyana Engineering
Contact Name
Graham Dawe
Phone
+08 9581 6770
Address
22 Fitzgerald Rd
City
Greenfields
State
WA
Postal Code
6210
Country
Australia
Website
https://kanyanaengineering.com.au/