Jacksonville, FL: North Florida Epoxy Floors, a premier epoxy flooring expert in North Florida, is gearing up for the busy summer season while maintaining its reputation for exceptional services. The company is renowned for its expertise in epoxy flooring solutions and has become a trusted name in the industry. 
With their specialized expertise in garage flooring and metallic epoxy flooring, they possess the necessary knowledge and experience to turn various spaces, including showrooms, garages, interior living areas, and more, into captivating and one-of-a-kind environments.
Their garage epoxy flooring solutions offer a robust and long-lasting finish for garage floors. This not only provides easy cleaning and superior protection for the floor but also works to convert lackluster or unsightly concrete surfaces into functional and visually appealing spaces.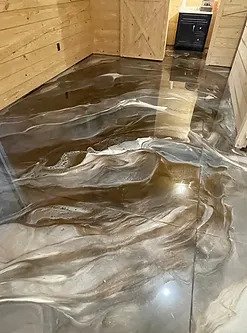 The company's metallic flooring creates a remarkable three-dimensional appearance accompanied by a glossy finish. Each metallic epoxy floor they craft is truly unique, making it an incredibly striking option for flooring. Unlike conventional solid color pigments, metallic epoxy opens up a world of possibilities, resulting in extraordinary flooring choices that are guaranteed to catch the eye.
Whether the client wants to transform the showroom floor, garage, or home, North Florida Epoxy Floors only uses the highest quality products and procedures to deliver unmatched flooring appearances and long-lasting finish. 
Their preparation process for a flake floor begins with thorough floor grinding using a 16-grit diamond blade, which prepares the surface for optimal adhesion. Following this, a base coat is applied, featuring a 100% solid epoxy infused with a moisture vapor barrier. This ensures a strong foundation for the flooring system. To enhance the visual appeal, the crew meticulously applies flakes, achieving a 100% coverage rate. Finally, the flooring is completed with a polyaspartic top coat, adding a durable and beautiful finishing touch.
The team strives to complete projects within a short timeframe, typically achieving a turnaround of just 1 to 2 days. This swift completion allows property owners to promptly enjoy their transformed spaces without delay.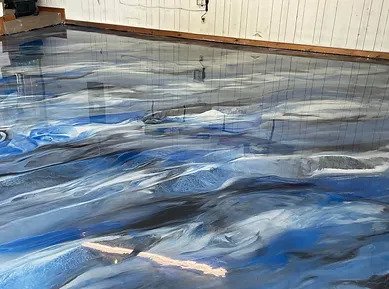 The company boasts an exceptional 4.9/5.0 Stars rating, a testament to its commitment to delivering top-notch epoxy flooring solutions. With many satisfied customers eager to recommend their services, North Florida Epoxy Floors has built a strong reputation in the industry. The reviews segment showcases the company's dedication to customer satisfaction and the high level of craftsmanship they bring to every project. One review reads, "Brandon and his team did excellent work for me. It was exactly what I requested. He was very professional, and the work was completed on time. I would recommend him for all your epoxy needs."
As the company gears up for the busy summer season, aiming to help more clients enjoy durability and style with their epoxy flooring, they are excited to announce an incredible special offer. Clients can now enjoy a remarkable discount of $250 off on epoxy floors covering an area of at least 400 sq. ft. This exclusive deal exemplifies their dedication to providing exceptional value for money and making their services more affordable for their clients.
Contact the team at (904) 982-4700 for a no-obligation estimate. North Florida Epoxy Floors is at 3021 Marbon Estates Lane South, Jacksonville, FL, 32223, US. 
Media Contact

Company Name
North Florida Epoxy Floors
Contact Name
Brandon Tuten
Phone
(904) 982-4700
Address
3021 Marbon Estates Lane South
City
Jacksonville
State
FL
Postal Code
32223
Country
United States
Website
https://www.northfloridaepoxyfloors.com/